Firmdale Hotels, created by trailblazing hoteliers Tim & Kit Kemp, comprises 10 hotels and 8 bars and restaurants in London and New York, each individually designed and decorated by Kit.
She and her design team had used fabrics & wallpapers I designed for both Zoffany & Lewis & Wood in various room schemes so I was already on their radar when she approached me in 2016 about a collaboration. I was commissioned to design a full height scenic for the new Whitby Hotel in New York which needed a special wallpaper for two meeting rooms. A second scenic wallpaper for London's Charlotte Street Hotel followed and thus began our collaborative adventure.
Scroll down to see what came next:
The Whitby Hotel, New York, USA
A bespoke scenic wallpaper for two meeting rooms
My design, inspired by American folk art incorporates mythical creatures from Kit Kemp's designs for Chelsea Textiles and Wedgewood
Once an exclusive design for The Crosby Hotel, I'm delighted that this wallpaper is now available as to buy as part of the Folk Tales Collection for Andrew Martin
Charlotte Street Hotel, London
A bespoke wallpaper for Room 109, The Loft Suite
My second wallpaper design for Kit Kemp, this time for a 4 metre tall mezzanine suite. Kit's Mythical Creatures make another appearance here, painted in a different style to suit this more romantic, ephemeral landscape.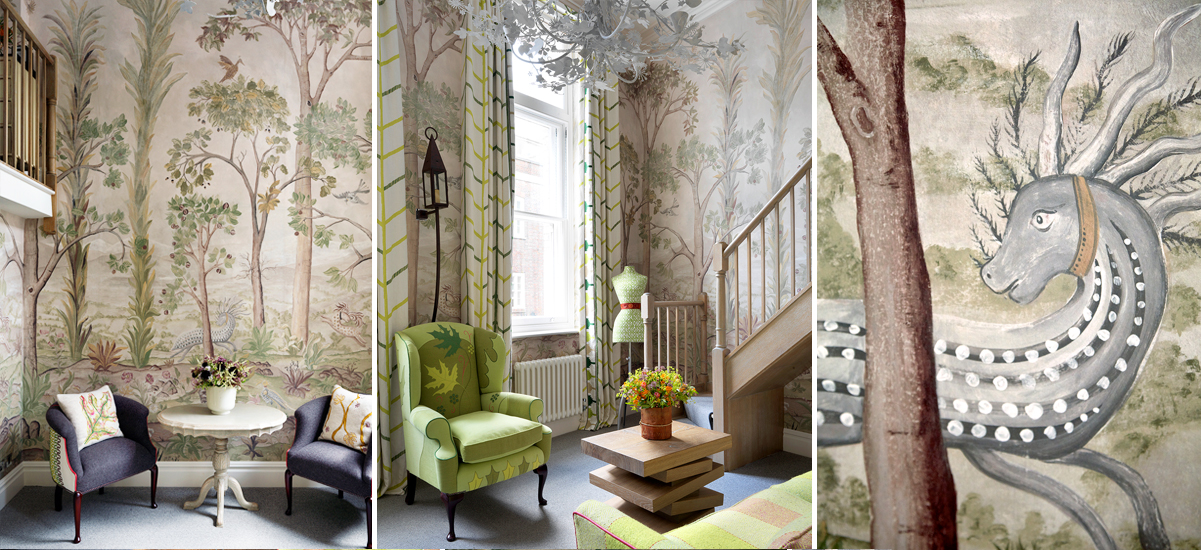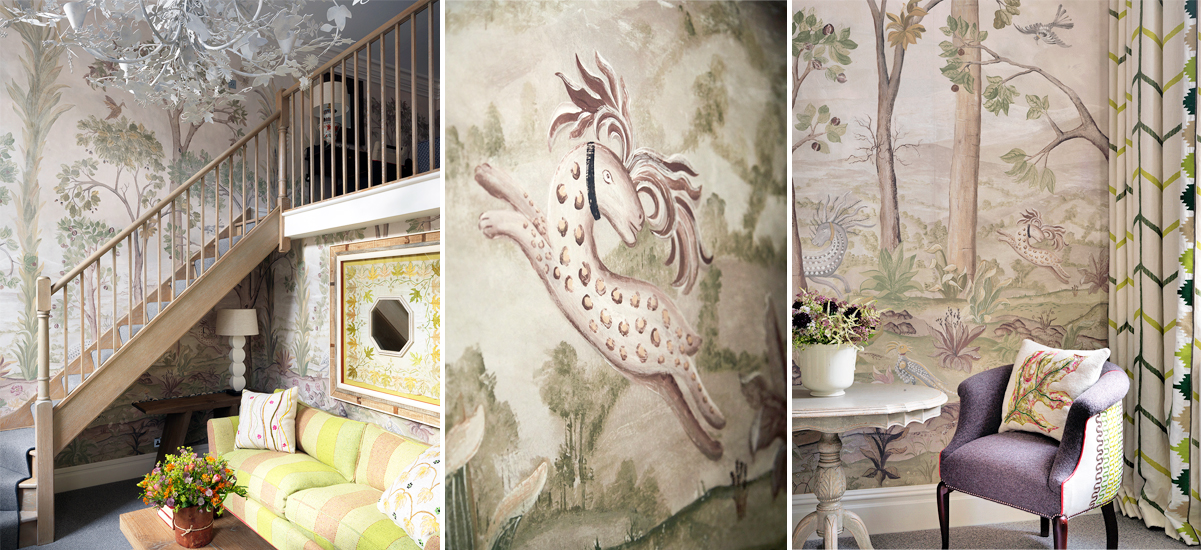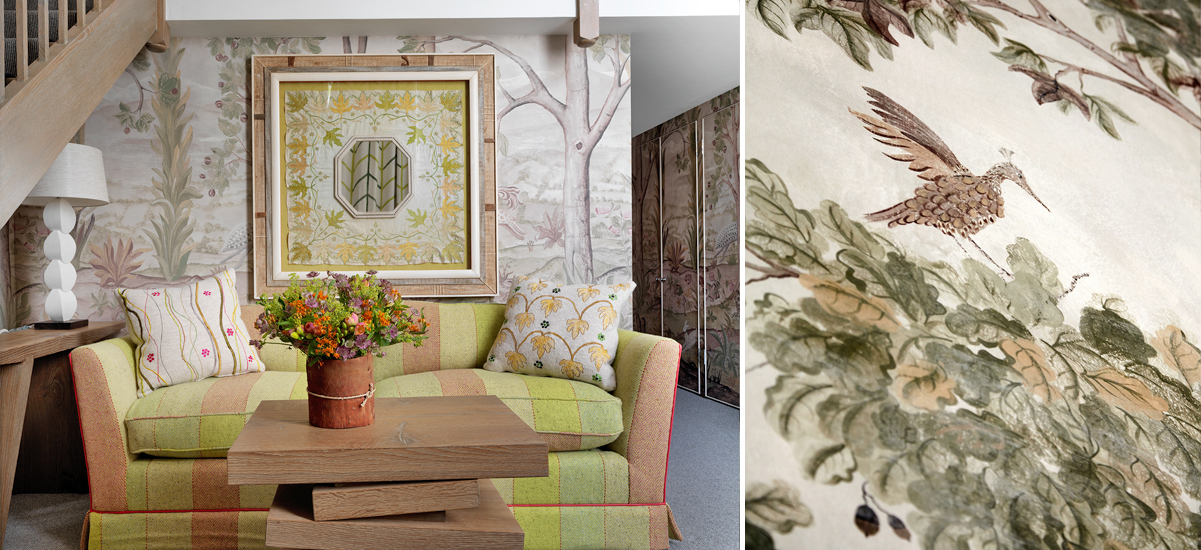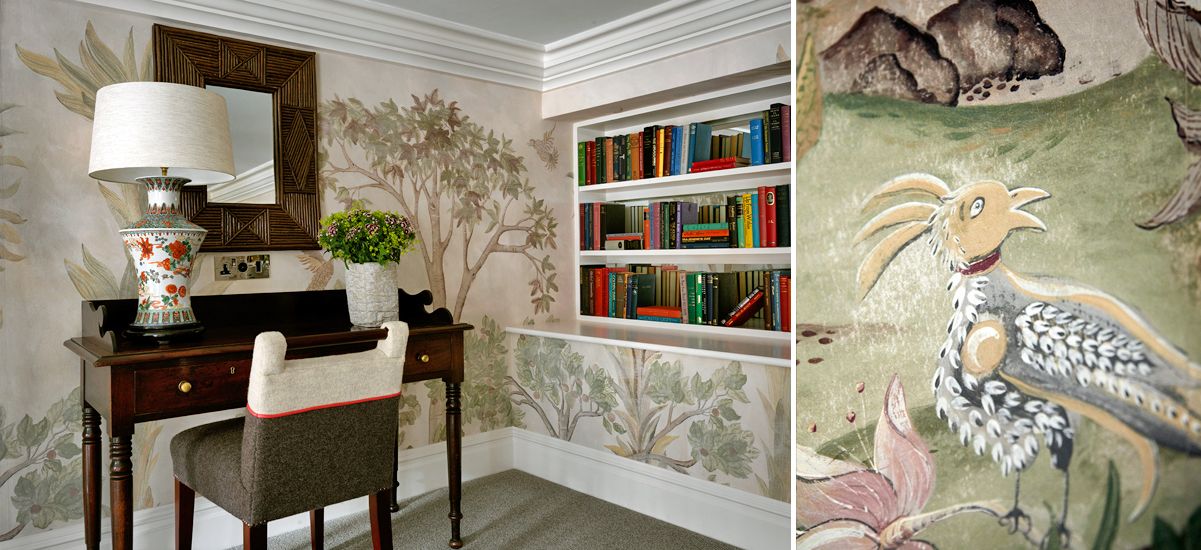 A Shepherd's Hut
Painted interior for Kit Kemp
An exclusive one-off painted interior for this charming thatched shepherd's hut at the bottom of Kit's garden in Hampshire. Inspired by American folk art and traditional painted furniture with a starry ceiling above.
Fresco Secco Folk Panels
Commissioned by Kit Kemp for her Turnell & Gigon Showroom take-over